Restylane ® Skinboosters

Restylane Skinboosters treatments create luminous skin in a natural way by gently and naturally smoothening the skin from the inside. It works by increasing the hydration within the skin to provide lasting moisture and improve the skin's surface.
Each treatment involves a series of hydrating microinjections of long-lasting hyaluronic acid, also called stabilised HA, a water-loving substance found naturally in the body that maintains hydration in the skin. Stabilised HA is a soft, gel-like substance that absorbs water and brings deep skin hydration to the treated areas, giving it improved firmness, elasticity and smoothness.
Restylane Skinboosters treatments can be used to improve the general skin quality of your face but also to improve exposed and sensitive areas such as your neck, décolletage and hands as well as areas with acne-scarred skin.
A typical treatment program with Restylane Skinboosters is made up of three initial treatment sessions with 2 to 4 weeks apart.
The initial 3-treatment program is done once and after that one treatment about every 6 months is recommended.
BELOTERO BALANCE ®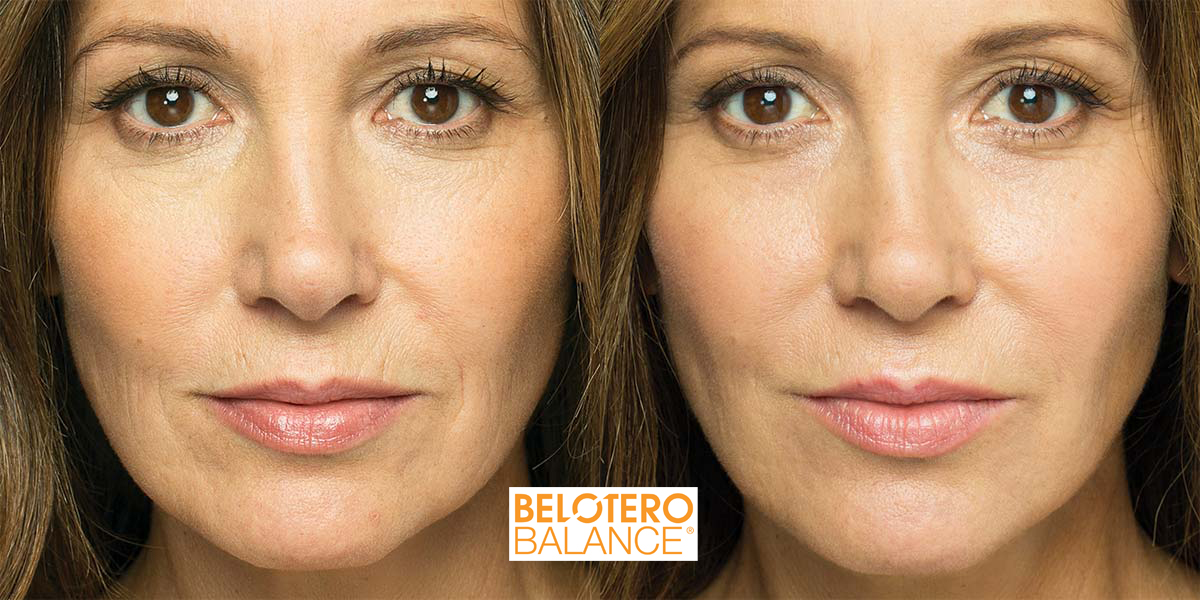 BELOTERO BALANCE ® from Merz Aesthetics is a prescription injection that is approved to temporarily smooth out and fill in moderate to- severe nasolabial folds (the folds or wrinkles that go from the side of the nose to the corner of the mouth).
A hyaluronic acid injectable filler designed to integrate into facial skin tissue, the unique manufacturing process for BELOTERO BALANCE yields a soft and cohesive gel that, once injected, instantly fills the skin to help smooth moderate-to-severe etched-in lines and wrinkles. While the product is versatile enough to handle moderate nasolabial folds (smile lines around the mouth), it may be an ideal option for treating delicate areas such as etched-in smile lines and vertical lip lines (thin lines that appear above and around the lips).
Individuals may vary, but results can last about 6 months or more. Some factors that affect longevity are the amount of product used and the area it is injected into. In areas that experience a lot of movement due to eating, talking, and smiling, the product may not last as long as other less active areas.
BELOTERO BALANCE is injected into the skin in a simple, quick treatment using a fine-gauge needle. You can either sit or recline during treatment and the aftercare is minimal.
Although, of course, every patient is unique, most return to normal, daily activities right after their visit.
Facial Rejuvenation with Azzalure ®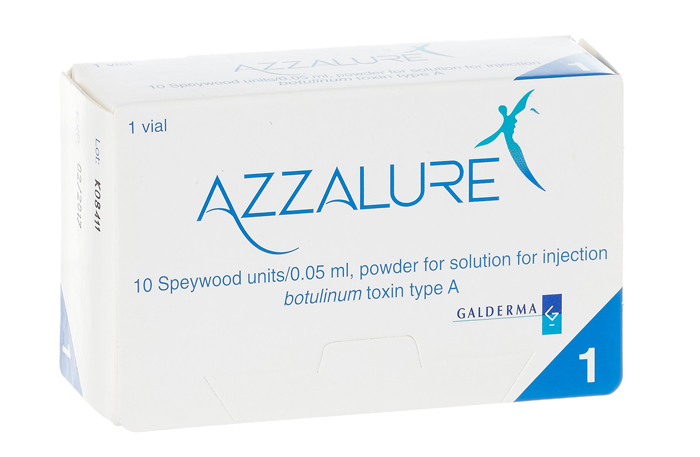 Azzalure®, botulinum toxin type A, has been available in the U.K. since the early 1990s as the brand name Dysport®, which has licences for various indications in 67 countries worldwide, including the United Kingdom and many European markets.
It gained approval for cosmetic use in the UK in early 2009 with dosing specific to treat glabellar (frown) lines, under the brand name Azzalure®.
Azzalure® is made from purified type - A neurotoxin produced by the bacteria Clostridium botulinum which temporarily prevents the release of acetycholine from sympathetic nerve terminals.
It is a prescription only medicine
It can only be administered by trained members of the medical profession, including Dental Surgeons and Medical Nuurses.
In March 2009, Azzalure® was granted a licence in the UK from the Medicines and Healthcare products Regulatory Agency (MHRA) for the "temporary improvement in the appearance of moderate to severe glabellar lines (vertical "frown" lines between the eyebrows) in adult women and men aged 65 and younger, when the severity of these lines has a psychological impact for the patient".
The approval was based on several clinical trials involving more than 2,600 patients.
Who should not be treated?
Individuals with a known hypersensitivity to any component of the formulation.
Patients who have generalised disorders of muscle activity (e.g. myasthenia gravis).
Patients where aminoglycoside antibiotics or spectinomycin are already being used or are likely to be used.
Patients who have bleeding disorders of any type.
Pregnant or lactating women.
Not recommended by the manufacturer for use in individuals under 18 years of age.
Treatment interval should not be more frequent than every three months as this can increase the risk of antibody formation.
Reported side effects associated with cosmetic use include bruising, swelling, irritation or bleeding at the site of injection, headache, and rarely eyelid ptosis or diplopia, and brow droop.
Information from the Department of Health
Clinical data
During the clinical development of Azzalure®, more than 2,600 patients were included in the different clinical trials. In clinical studies, 1907 patients with moderate to severe glabellar lines have been treated at the recommended dose of 50 Speywood Units. Of these, 305 were treated with 50 units in two pivotal Phase III double-blind placebo-controlled studies and 1200 treated with 50 units in a long-term open-label repeated dose Phase III study. The remaining patients were treated in supportive and dose-ranging studies. The median time to onset of response was 2 to 3 days following treatment, with the maximum effect observed at day thirty. In both pivotal placebo-controlled phase III studies, Azzalure® injections significantly reduced the severity of glabellar lines for up to 4 months. The effect was still significant after 5 months in one of the two pivotal studies.
Azzalure® is a registered trademark of Galderma.
Site last edited on 12/09/2019 08:09